What is Managed Software Center?
Managed Software Center is your software and Operating System (OS) manager for all CAD Mac computers. All software and OS updates are deployed to all computers via the Managed Software Center application. Managed Software Center is located in the Applications folder, /Applications.
Unlike previous systems, Faculty are able to control what software is installed on their computers and when. Once you install a piece of software, updates and patches will be maintained via Managed Software Center as we make them available. It is strongly advised that Faculty only use Managed Software Center to apply updates so they mirror what is installed in the labs.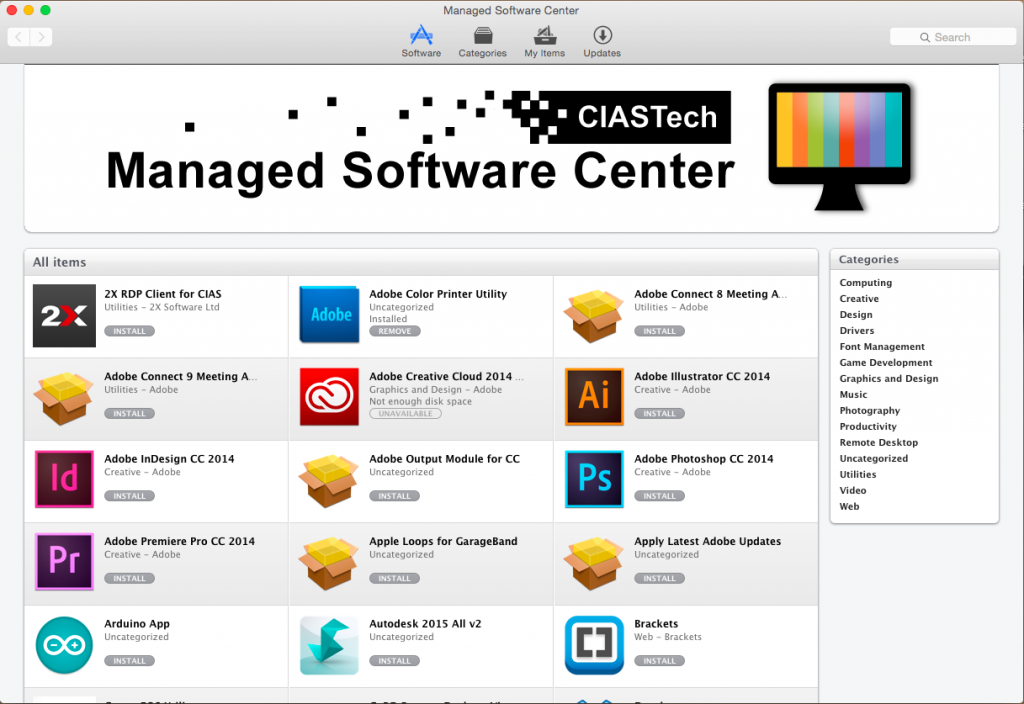 Understanding Managed Software Center (MSC)
Launch Managed Software Center and you will be presented with the main window. At the top of the window, there are four choices. Choices are Software, Categories, My Items, and Updates


Software:
Under this option you will find all the software prepared by CAD Tech that is available for your computer. Some software is specific to our department ( developed internally ) while the majority is software that we purchase and/or acquire for free and repackage for deployment in our environment. To install a specific piece of software, just click the Install button to install it.
To remove the software, click the Remove option when displayed. ( Note: Not all software can be uninstalled due to dependencies on other software )
Categories
This option is basically the same as the Software option except is filtered by assigned categories. Clicking on a Category on the right hand side of the window will filter the software to just that specific Category.
My Items
This option will display all software managed by us that is already installed on your computer. In this list, you will have the option to also remove any installed software or cancel any software installations.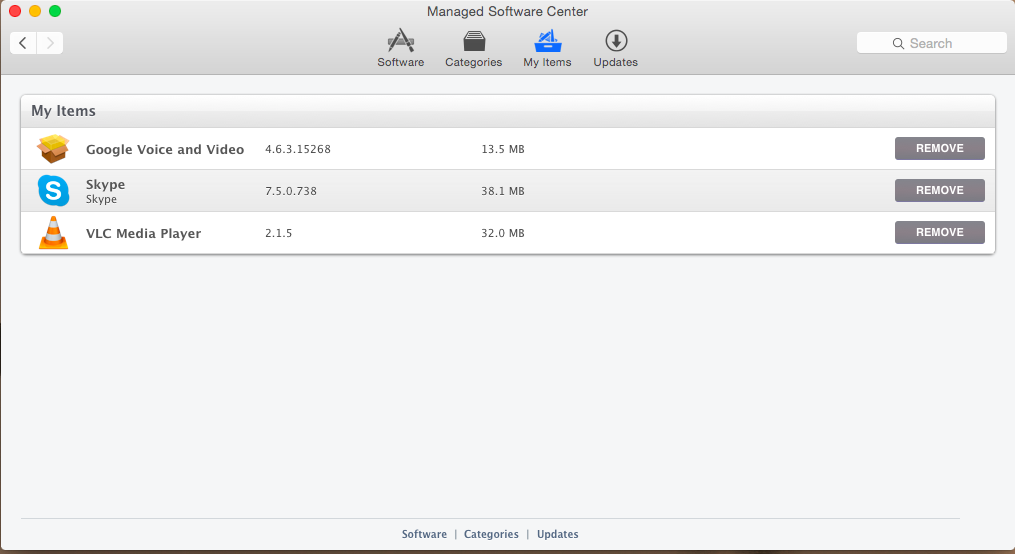 Updates
This option displays any updates that are pending to install. You are required by the RIT Security and Computing Standard to install these updates As Soon As Possible. This window will also pop up automatically at least once a week if you have updates that need to be installed. Sometimes we will push out software that requires installation by a certain date. Please make sure to install this software by that date or your computer will install and reboot on it's own. More information on Force Installs is noted below.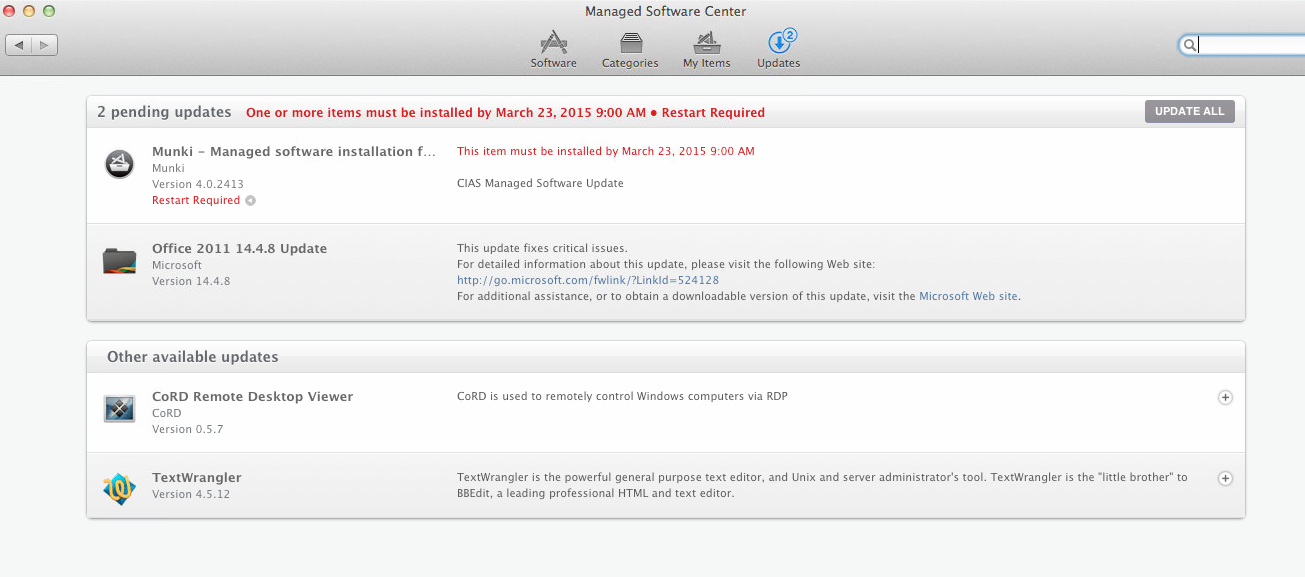 More Info on Forced Updates
We have heard some miss understandings on how the force update works and why we do it. When we determine that a Security update or Software patch needs to be installed in a determined time frame, we will set a "install by date" flag. When this flag is set, users are told during the next update cycle that an update will need to be installed by a certain date and time. This notification comes up on the "update" window in RED text. Here is an example of this.



If the update is not applied at that time, notifications are continually made at a specified interval. This is explained in the next section.
We will normally allow at least a week or more before a update is forced to install. The only time we might break this rule is if a zero day exploit comes out and the risk of the exploit not being patch immediately is greater than the inconvenience of your system being forced to patch immediately.
How Forced Install Notifications work
Packages that have a force install after date set will show up in red text in the Managed Software Center (MSC) GUI. The description is appended with more detail about the force install.
Starting at 72 hours before the force datetime, when Later is clicked in the MSC update window, a message will be presented warning the user of the impending force install. The MSC GUI will still only display based on the ManagedInstalls::DaysBetweenNotifications setting, which defaults to once per day.
Starting at 240 minutes (4 hours) before the force datetime, the MSC GUI will be displayed with a more intrusive warning notification. This notification will be displayed at 240, 180, 120, 90, 60, 45, 30, 15, 10, and 5 minutes. A final notification will also be displayed roughly 1 minute before force logout/restart.
Minimum Notification
If a machine is powered off or asleep while a force install is due to take place, it will start at 60 minutes worth of notifications. If the machine then is put asleep until that new 60 minute counter has been started, the machine will perform the force install within minutes of waking up.