Does SIS have your Perplexed? Download our Cheat Sheet here!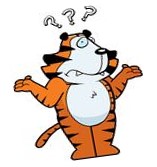 Enrollment Dates
Shopping carts are open for a period of time prior to enrollment so you can plan your upcoming course schedule.  Enrollment appointments for the next term are assigned based on number of credit hours earned, and are randomly generated within year levels. Once enrollment appointments have been generated, you can view your assigned start date and time by looking at the Student Center in SIS, under the title bar "Enrollment Dates". Click on "details" to see your specifics. Once enrollment begins, it remains open through the Add/Drop period.
Enrollment Holds
There are a variety of holds in SIS that will prevent enrollment.  To verify whether or not you have one of these holds, log into SIS, and view the bar on the right. The "Holds" section is at the top of the bar. It will say "No holds" or list the holds that have been applied. If you do have a hold, click "more details".  The next screen will have a link to an explanation of the hold and the action you need to take to have the hold lifted.
Everything You Need to Know from the RIT Registrar's Office:
The Registrar's Office Powerpoint provide lots of useful information. This is the document Peer Advisors have been sharing in YearOne:
---
Access the Student Information System (SIS) here.
Useful "How To" Information
When you go to your account in SIS, and click on "My Class Schedule"
You have two options:  "List View" and "Weekly Calendar View"

We recommend using "Weekly Calendar View"

Change "End Time" to 10:00pm

The system defaults to 6:00pm and you may have a class that starts after 6:00pm!

This has happened to many of our students week one

If you did miss a class, please contact your professor to find out what you missed

If you scroll to the bottom of this page, there are several options

"Show Instructors" – this is a great option to click

"Show Class Titles" – DEFINITELY choose that option

Clicking "Show am/pm" will NOT resolve the system defaulting to a 6:00pm end time

Make sure you change "End Time" and click "Refresh Calendar"
Codes for Days of the Week
"T" equals Tuesday

"TR" does NOT equal Thursday only

"TR" is actually Tuesday AND Thursday

Here at RIT on SIS, "R" equals Thursday

If you use the weekly calendar view, you'll be able to see exactly when your classes are – but remember to change the end time to include evenings
If you are on a waitlist, or you set up a swap for a course you are waitlisted for
If you no longer want a class you are waitlisted for, please REMOVE YOURSELF from the waitlist to make room for other students

You could end up in a class you no longer want

If you have set-up a swap

 you could end up being dropped from a class you want to stay in

if the class is closed, you might not be able to re-add the course

you could end up in a course you no longer want
Please remember, it is the STUDENT's RESPONSIBILITY to monitor their course activity and know their class schedule. Of course, we are here to assist whenever needed!
---
SIS Tutorial:
Additional SIS help can be found online: http://www.rit.edu/sistraining/student-training-materials  There is a wealth of knowledge at this site. If you do not find an answer to your question please contact your academic advisor for assistance.
How to Find Perspectives Courses in SIS
In "Class Search" leave the subject box blank. Scroll down to "Course Attributes". In the first box, enter "PERS". At the second box, click the magnifying glass and select which Perspective to search for. Scroll down to "Campus" and select "RIT Main", then SEARCH. This will bring up a list of courses being offered in that term that will fulfill the Perspective you chose.
Navigating the Student Information System
Lots of useful information can be found on your Student Center page in SIS – click on the image to enlarge: