Accessing the training site requires you to use either Internet Explorer, Firefox or Safari web browser. All other browsers are currently not supported.
– Accessing the website will require two things.
Installation of the Java Plug-In

Pop Ups blocker allowed for the RIT Safety Training web site
– First, Check to see if you have Java installed
Visit the following web site to test your Java installation.
If the website fails to load or if your Java install is not the latest version, please follow these instructions to install the latest version
– For RIT Owned computers do the following:
– For All other computers visit the following page to download the latest driver:
– Training Video Web Site Link
– How do I make this work once I verified my Java plug-in works?
Safari ( Mac )
Before visiting the above link we need to enable Pop Ups with-in the browser

Launch Safari and visit the Preferences by clicking "Safari" in the menu bar and choosing "Preferences"
Choose "Security" and uncheck "Block pop-up windows"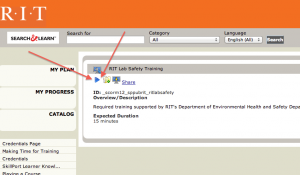 Firefox ( Mac )
Launch Firefox ( make sure to verify your java install first ) and visit the URL for the training site

Login to the site when asked using your RIT username and password

Once the website loads, click on the "Play Button" icon on the website.  Firefox will prevent you from opening the pop-up window.  Click "Preferences"

Now choose "Allow pop-ups for rit.skillport.com"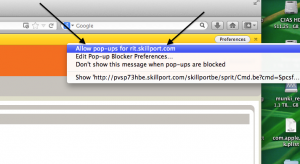 Click the play button again and you should see a Run Java message pop up.  Click the "Run Button"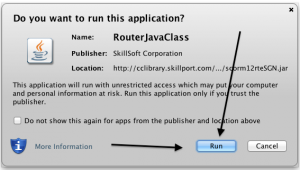 Trainer video should now be playing
Internet Explorer (PC)
After verifying your Java install, visit the Training website URL

Login with your RIT username and password

Click the "Play button" and you will be notified that the Pop-up was blocked.  Click on this notification and then choose "Always Allow Pop-ups from This Site"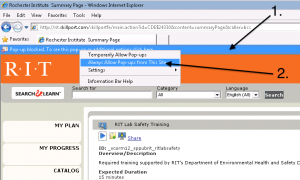 Now you are presented with another dialog confirming to Allow the pop-ups from rit.skillport.com.  Click "Yes"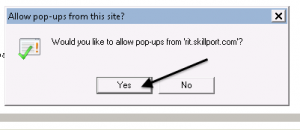 Click the "Play button" again and then click "Run" when asked by Java to Run this application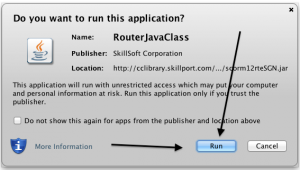 You should now see the player start to load the training video
Firefox ( PC )
Launch Firefox ( make sure to verify your java install first ) and visit the URL for the training site

Might be presented with "This Connection is Untrusted".  If so, click "Add Exception…"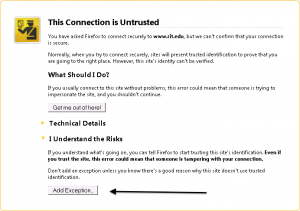 Click "Confirm Security Exception"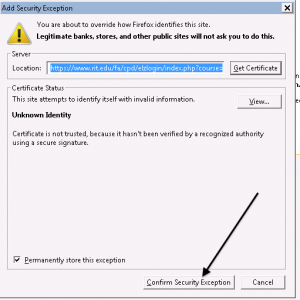 Click on the "Play button"

You will be notified that the Pop-up was blocked.  Click the "Options…" button and choose "Allow pop-ups for rit.skillport.com"

Click the "Play button" again and then click "Run" when asked by Java to Run this application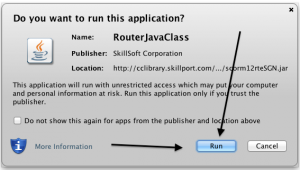 You should now see the player start to load the training video