What is RIT Self Service?
RIT Self Service is your software and Operating System (OS) manager for all CAD Mac computers. Majority of software and OS updates are deployed to all computers via the RIT Self Service application. RIT Self Service is located in the Applications folder, /Applications.
Unlike previous systems, Faculty are able to control what software is installed on their computers and when. Once you install a piece of software, updates and patches will be maintained via RIT Self Service (except Adobe) as we make them available. It is strongly advised that Faculty only use RIT Self Service to apply updates so they mirror what is installed in the labs.

Understanding RIT Self Service
Launch RIT Self Service and you will be presented with the main window. On the left side of the window, there are four choices. Choices are Home, Browse, Notifications, History, and Login.
Home
Clicking this will display the available categories in the main window. Clicking on a category will display the available titles under this category.
Browse
This option is allows you to view all the categories in a vertical list. Clicking on a category will display the available titles for installation.
History
This option will display all software managed by us that is already installed on your computer.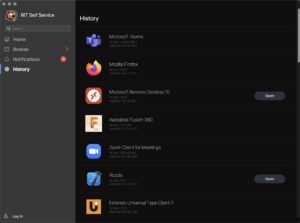 Notifications
This option displays any updates that are pending to install. You are required by the RIT Security and Computing Standard to install these updates As Soon As Possible. Please make sure to install this software by that date or your computer will install and reboot on it's own. More information on Force Installs is noted below.